Exclusive Offer
|
Get a free MiFi unit for your remote workers with our 500GB tariff
500GB Data
Free MiFi Unit
Sign up to our 500GB data tariff and get a FREE Alcatel Link Zone 4G LTE Cat7 MiFi unit! Perfect for remote workers or for use as a backup connectivity solution. Register your interest today!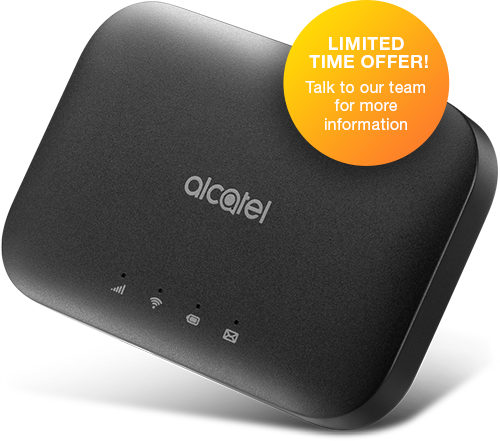 What's included in our special offer?
Stay connected on the move
At just 13.3mm thick, Alcatel's Link Zone Cat7 is the smallest MiFi unit on the market. Put it in your pocket and work effectively on the move with minimal disruption. What's more, the Alcatel Link Zone Cat7's 210 mAh battery ensures that you can continue to work productively for up to 8 hours!
Sharing data is secure & easy
Sharing data couldn't be easier with the Alcatel Link Zone Cat7 MiFi unit. Files can be transferred securely with colleagues through the dedicated Alcatel Link app, available for Android and iOS.